The New Model
Jean-Honoré Fragonard (1732 - 1806)
Circa 1770, oil on canvas, 50 x 63 cm
Why is this work so important?
The innuendos, libertine allusion, and harmony of the colours expressed in a camaieu of pinks and browns, the treatment of the light, the subtleness of the different gazes, and the perfectly mastered oval composition are all factors that make this small painting a perfect example of a genre in which Fragonard excelled.
Baron Portalis, one of the artist's greatest connoisseurs, underlined the artist's brilliant execution: 'Imagine everything of the fairest, pinkest, and lightest you can dream of; mould these shades with spirit, but with the inimitable spirit of the master, and you'll achieve the impression felt by the viewer. The brush slides, but with hardly any pressure, over the lacklustre pinks of the workshop gown of a young painter who is lifting his model's final veils with the end of his maulstick.' Edouard André acquired The New Model before his marriage—the small oval painting that conveys all the seduction of the eighteenth century.
In detail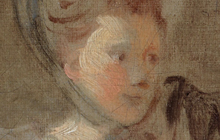 Pierre Rosenberg, curator and art historian, remarked on the 'questioning gaze of the affable mother'. He was pointing out the sense of irony in Fragonard's rendition of the scene.
Did you know?
After winning the Prix de Rome in 1752, Fragonard initially worked on history paintings and religious paintings before concentrating on these small tableaux de cabinet that were so popular with collectors.