Portrait of Comte Antoine Français de Nantes
Jacques-Louis David
1811, oil on wood panel, 114 x 75 cm
Why is this work so important?
Known for his history paintings rather than his portraits, David has managed to convey the model's personality and the grandeur of the society he embodies. As premier peintre to Napoleon, he definitively glorified the Empire.
The painter created a composition based on the red ribbon of the Comte's decoration and his blissful satisfaction. Seated and viewed from three-quarters, he is depicted slightly from below, which gives him a dominant position. This viewpoint is perfectly suited to the model's personality, who appears to be authoritative and disdainful. To make his work more truthful, David chose a wood panel support rather than a canvas, like the Flemish Primitives. The costume, which is a masterpiece in itself, underlines the sitter's social status. David rendered the sumptuous silk, velvet, feathers, lace, and embroidered foliage with an icy harmony of whites, blues, silver, and gold. The red ribbon of the decoration stands out boldly from this harmonious ground.
In detail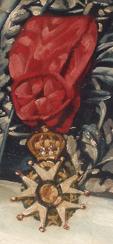 Appointed prefect, then Councillor of State, and Comte empire, the Comte was elevated to the rank of Grand Officier de la Légion d'Honneur when Jacques Louis David painted this portrait, as attested by the distinction on his clothing.
Did you know?
Two years before his death, Edouard André bought this masterpiece from Durand-Ruel, the Impressionists' art dealer.