Bust of Antoine-Louis François Le Fèvre de Caumartin
Jean-Antoine Houdon
1741 - 1828
1779, marble, 57 x 54 cm
Why is this work so important?
Great praise was heaped upon Houdon when he exhibited this bust at the 1779 Salon. It is a fine example of his ability to represent and animate faces. He was interested in realism and capturing a truthful likeness of the sitter, without any idealisation.
Houdon, the great neoclassical sculptor, created the Three Graces and, in the portrait genre, the famous Bust of Napoleon. Having benefitted from the best training, including at the French Academy in Rome, he went on to become the greatest Western portraitist of the second half of the eighteenth century. This work dates to the beginning of his career when, as a young artist, he was commissioned to create the portrait of Antoine Louis François Lefèvre de Caumartin, one of the most famous descendants of a great dynasty of Parisian parliamentarians. De Caumartin was a trusted and distinguished advisor to Louis XVI, whom the King had appointed as mayor of the municipality of Paris. He is depicted here with his mouth open and smiling, with his characteristic healthy appearance and amiable nature. Every specialist considers that the works executed circa the 1780s are amongst Houdon's finest thanks to their unique combination of simplicity and nobility.
In detail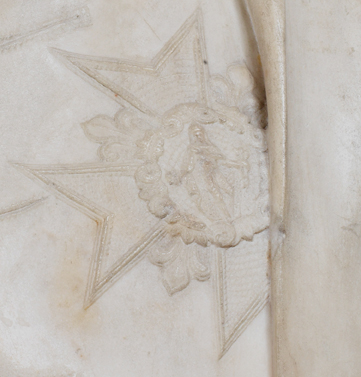 It is interesting to note the period clothing, with decorations such as, in particular, the Cross of the Order of the Holy Ghost (Croix de l'Ordre du Saint-Esprit) embroidered on his chest, the premier chivalric order of the French monarchy.
Did you know?
The sculptor left very specific and well-considered instructions about how to show off the bust to its best advantage; for example, by placing it on a pedestal or placing it high up and illuminating it with three-quarters lighting.