Bust of Pope Gregory XV
Gian Lorenzo Bernini Bernini, dit Le Bernin (1598 - 1680)
Why is this work so important?
Nélie Jacquemart added this bust of Pope Gregory XV to her collection in 1899, after acquiring it at a Stefano Bardini auction in London. It is one of the few seventeenth-century works that she acquired but she had an eye for the best. The facture of this fine sculpture is very impressive.
Bernini (known in France as Le Bernin) was an Italian painter, sculptor, and architect. An artist who was active in the first half of the seventeenth century, he was considered the greatest artist of his time. He worked for many years in Rome for several successive popes, including Pope Gregory XV. Indeed, it was for the latter that he sculpted a marble bust, of which this cast is a replica. However, recent studies seem to suggest that it was the first piece to be cast, and that it was chiselled by the sculptor for a prominent Roman collector. Hence, science has enabled this work to be classed as a 'major work' rather than a 'sculpture of minor importance'.
In detail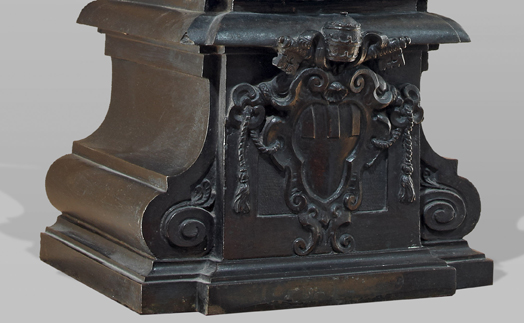 The bust in the Jacquemart-André collection is the only example—among the various examples produced—that possesses a socle with coats of arms.

Did you know?
During his pontificate, Pope Gregory XV, whom this bust represents, made Bernini a knight.