Louis XV desk
Jacques Dubois (1694-1763)
Flat topped desk with Chinese lacquer decoration; 79 x 182 x 92 cm
Why is this work so important?
This desk was created by Jacques Dubois, a royal cabinetmaker and one of Louis XV's favourite furniture suppliers. The prestigious stamp and, most importantly, the quality of the work are the hallmarks of a very high quality piece of furniture.
Although it was intended to be a functional item of furniture for a high-ranking person, it could be considered a bureau ministre (kneehole desk). The elegance of its contours and very slender design give it an incomparable sense of fluidity. Its long and shallow desktop rests on four legs that curve slightly inwards, which enhances the impression of lightness. The simplicity and blackness of the lacquer perfectly complement the bronze embellishments.
In detail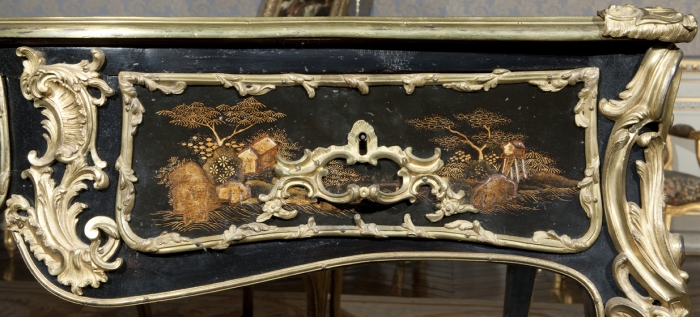 Its Chinese lacquer decorations, representing landscapes with golden hills set against a dark ground, lack finesse, although they do add colour to the furniture. However, the fine quality of the bronze framing, comprising intertwining vegetal and floral mouldings, creates a picturesque effect that perfectly suits this pure piece from the era of Louis XV.
Did you know?
According to the museum archives, this desk was bought from the antique dealer Montvallat in 1887. It was subsequently—and inexplicably—returned, but was eventually recuperated by Edouard André the following year.