Portrait of the Marquise d'Antin
Jean-Marc Nattier (1685 – 1766)
1738, oil on canvas, 118 x 97 cm
Why is this work so important?
This picture is a portrait of Mathilde de Canisy, the Marquise of Antin, who was only fourteen at the time. It is an excellent example of Nattier's work and sense of composition.
The painter depicted the marquise posing at the foot of an oak tree, overlooking a landscape that forms the backdrop. Her graceful pose and delicate features give her a childlike and innocent quality. The strong composition of this portrait is a fine illustration of the artist's personality and art: the inversely curving arms form a diagonal with the garland of flowers arranged in a sling that crosses over the bust of her white silk dress. The painter renders the drapery and silks to great effect. Queen Marie Leszczynska, Louis XV's wife, and their daughters particularly appreciated the delicacy, elegance, and sense of lightness that he introduced to a genre that was traditionally majestic—the court portrait.
In detail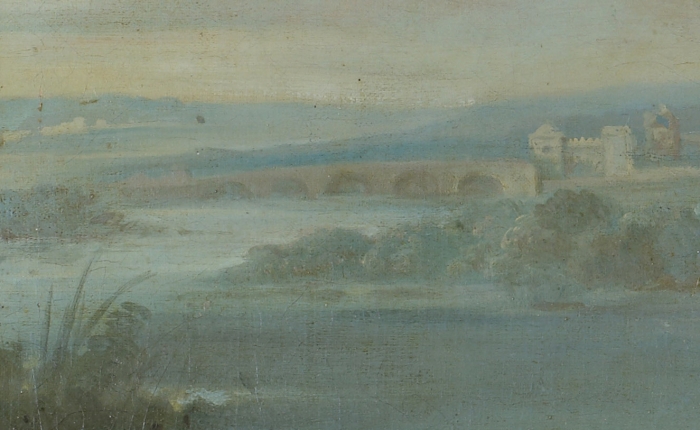 The landscape in the background has been painted with great precision and the sky is reflected in the depths of the river. The soft colours perfectly complement the sitter's delicacy.
Did you know?
Although this painting is now one of the most popular works in the Jacquemart-André Collection, no attention was paid to it at the time and it barely attracted any comments when it was first presented at the 1738 Salon.