Virgin and Child on a throne
Giovanni Bellini (1430 - 1516)
1510, oil on wood panel, 131 x 103 cm
Why is this work so important?
When she acquired this Virgin and Child on a throne, Nélie Jacquemart did not know who the painter was. This masterful representation, attributed to Giovanni Bellini in the 1930s, demonstrates Bellini's genius and is an incredible work because of its modernity.
The composition is highly structured and the various planes create a sense of depth. The Virgin is seated on a monumental throne, behind which drapery is suspended. She is installed on an outdoor terrace enclosed by a balustrade, overlooking a landscape that unfolds in the background. Moreover, the verticality of the throne and the horizontality of the drapery form a sort of cross, which is a little rigid but softened by the figure of the Virgin, which is extended by the long dark, flowing mantle.
In detail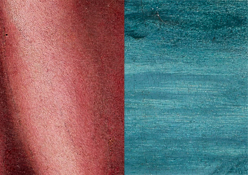 The paint surface has been degraded by excessive cleaning: there areas of wear in the sky and the landscape, and in the red dress, which has lost the glazes that modelled it.

Did you know?
For whom was the work executed? Documentary research has revealed that the Venetian Senate commissioned the painter to produce a work that was sent as a gift to King Francis I's sister. It may have been this painting.