The Martydom of Saint Sebastian
Donato di Niccolò di Betto Bardi dit Donatello (1386 - 1466)
Circa 1460, bronze, 26 x 24 cm
Why is this work so important?
This bronze plaquette was already famous when it entered the Edouard André Collection. A masterpiece by the sculptor Donatello, the perspective is masterly.
This small bronze bas-relief by Donatello represents The Martyrdom of Saint Sebastian. Condemned by the Emperor Diocletian to be peppered with arrows for having converted to Christianity, the saint is represented tied to a column. The extension of his body makes the muscles of the arms and torso and the ribs protrude under the smoothly modelled skin. On the right, two archers are bending their bows to shoot, and, in the background, an angel clad in a long robe is holding the martyr's palm leaf. On a bare background, Donatello mastered the spatial depth with very few elements: the sense of perspective is created via the deformation of the column, and the sense of depth via the differences in the size of the figures. The small plaquette creates a dramatic effect and is reminiscent of an antique bas-relief, into which the great fifteenth-century Florentine sculptor breathed new life. While the work attests to remarkable technical skill, the sense of tragedy conveyed by it is even more remarkable.
In detail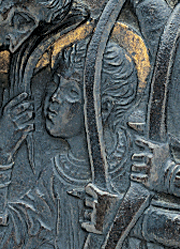 In the background, behind Saint Sebastian's body and protruding muscles, can be seen an angel dressed in a long robe, who is holding the martyr's palm leaf.
Did you know?
The technique used in this work to create a sense of depth is similar to that used in the bas-reliefs produced for Padua's basilica, in Italy.