Virgin and Child
Pietro di Cristoforo Vannucci dit Le Pérugin (1445 - 1523)
Circa 1470, oil on wood, 61 x 41 cm
Why is this work so important?
There are very few works by Perugino from this period, which makes this panel painting particularly valuable. Even though its style is very different from the subtle style the painter developed in the years that followed, the sculptural nature of the composition and the quality of the drawing made it possible to attribute the painting to him.
The position of the infant Jesus in the work by Perugino is similar to that in the painting by Botticelli. This is explained by the fact that the two young painters trained in the same workshop and copied a prototype by Andrea Verrocchio. Flemish influence can be seen in the work by the Umbrian painter Perugino, in the careful rendering of the landscape and the atmosphere—characteristics that do not exist in the Florentine tradition, that of Sandro Botticelli.
In detail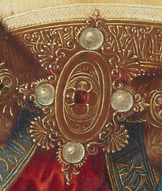 This panel painting was for a long time attributed to Pollaiuolo, due to the influences of the Flemish school that can be seen in the work. In particular, the treatment of the jewellery worn by the Virgin, whose realistic rendering is characteristic of the school, led the specialists to wrongly attribute the work to Pollaiuolo.
Did you know?
This work reflects one of the artist's favourite themes—half-length Virgins. He painted this theme throughout his life, on many occasions and in different styles, according to the period. He produced innovative representations, favouring a landscape in the background instead of the traditional gold background used by his precursors. This turned the Madonna into a real person—a mother with her child.